Link to Article
Mar 25th, 2011 | By
Bryan Cross
Today we celebrate the central event in the whole of human history: the Incarnation of the Second Person of the most Holy Trinity, in the womb of the Virgin Mary, nine months before His nativity. On this day, God fulfilled the promise He had made in the Garden of Eden (
Gen 3:15
) that He would send a Seed of the woman who would crush the serpent's head.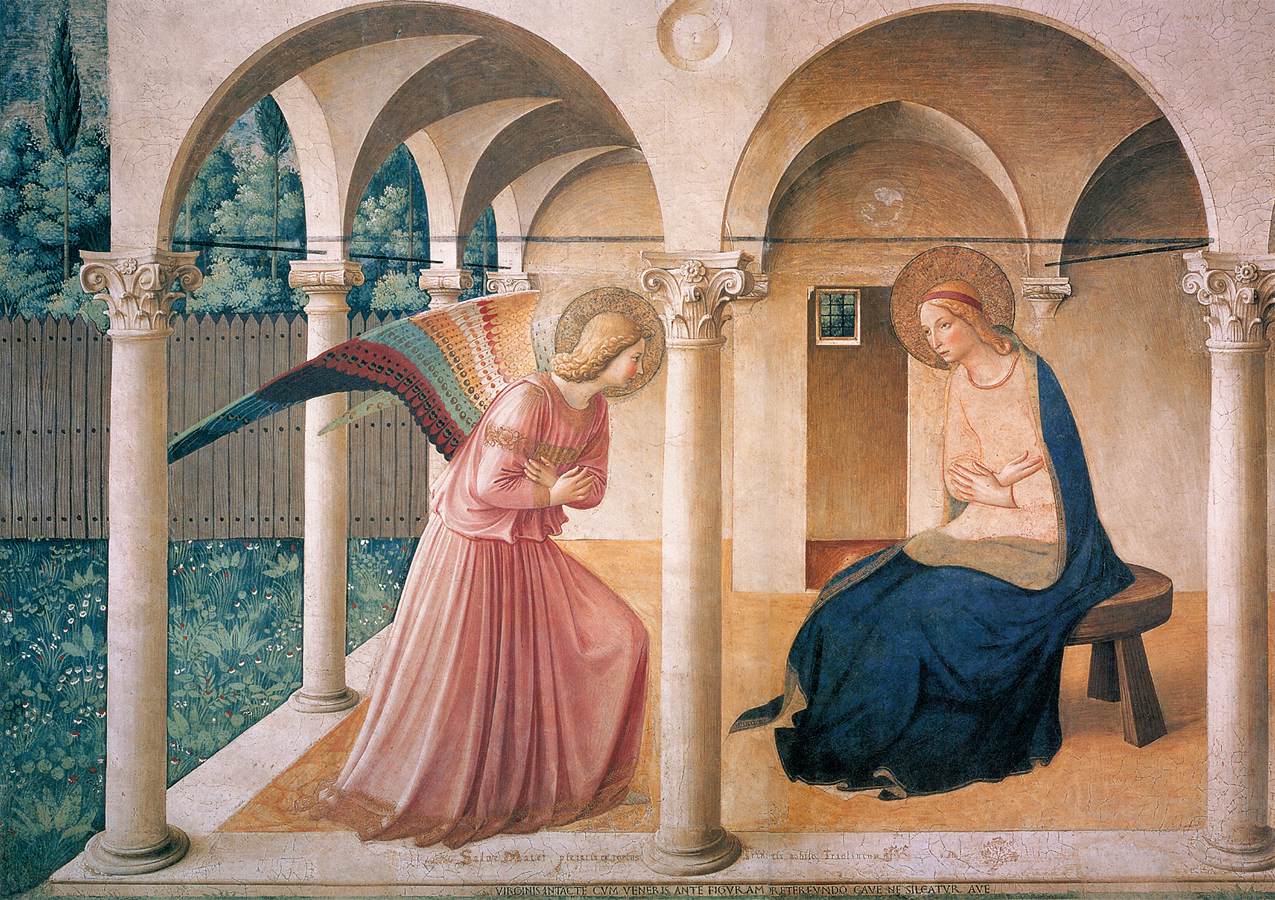 The Annunciation
Fra Angelico (1442-43)
Convento di San Marco, Florence
On this day in the fullness of time, God accomplished the following lines in the Creed:
Greek:
Τὸν δι' ἡμᾶς τοὺς ἀνθρώπους καὶ διὰ τὴν ἡμετέραν σωτηρίαν
κατελθόντα ἐκ τῶν οὐρανῶν
καὶ σαρκωθέντα ἐκ Πνεύματος Ἁγίου καὶ Μαρίας τῆς Παρθένου
καὶ ἐνανθρωπήσαντα
Latin:
Qui propter nos hómines et propter nostram salútem
Descéndit de cælis.
Et incarnátus est de Spíritu Sancto ex María Vírgine,
et homo factus est.
English:
Who for us men and for our salvation
came down from heaven.
And was incarnate by the Holy Spirit from the Virgin Mary,
and was made man.
This feast is called the Solemnity of the Annunciation of the Lord. On this day the angel Gabriel came to Mary in the city of Nazareth, as recorded in St.
Luke 1:26-38
, greeting her as one "full of grace." He announced that she had found favor with God, and that she had been chosen to bear a Son, who was to be named Jesus, who is the "Son of the Most High." Gabriel told Mary that her Son would be given the throne of David, that He would reign over the house of Jacob forever, that His Kingdom would have no end, and that He would be called the "Son of God," fulfilling the prophecies made a thousand years earlier. (2 Sam. 7:12-16. Cf. Jer. 23:5, Dan. 2:44, 7:13-14, Ps. 72) Mary was being told that she was the woman referred to in
Genesis 3:15
, that it was her Seed who would crush the serpent's head. She was being told that her child would be the Son of God (i.e. divine), and thus that she had been chosen to be the "Mother of God," the Mother of the One who would set up an everlasting Kingdom. This Messianic Kingdom is the Church, over which the gates of hell shall never prevail.